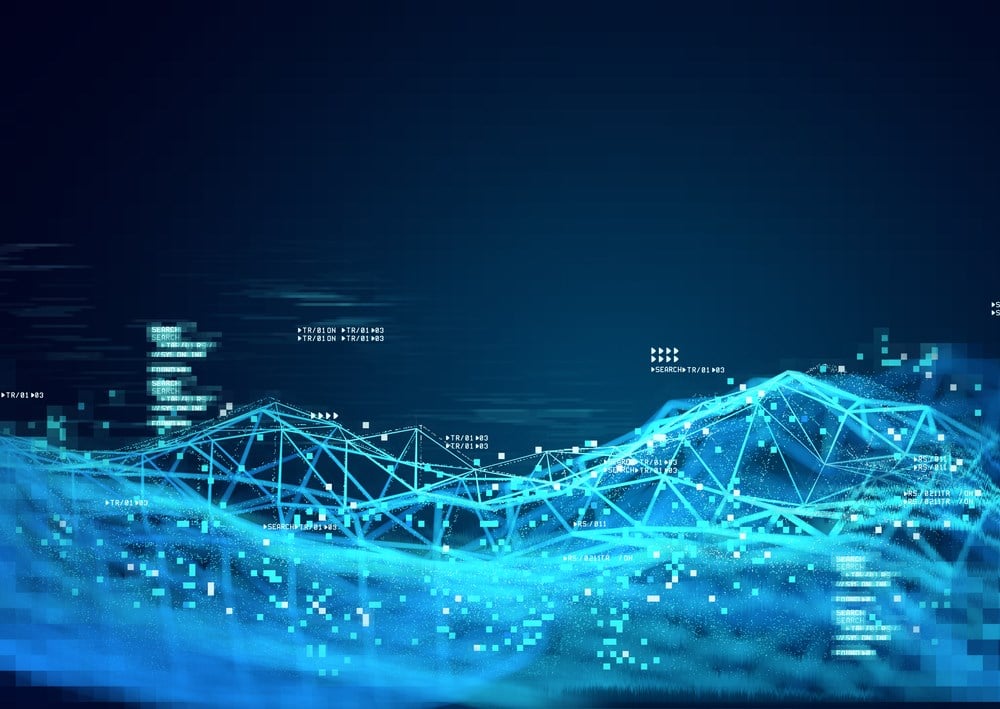 Digital Realty Trust (NYSE: DLR) is a real estate investment trust (REIT) specializing in data centers. The company owns and operates data centers around the world. Data centers are large warehouses storing thousands of servers, making up the backbone of the world's IT infrastructure. Its data centers facilitate the transmission, processing and storage of digital information. It serves customers in all sectors and industries.
Some of its largest clients include Alphabet Inc. (NASDAQ: GOOGL), Meta Platforms Inc. (NASDAQ: META), Amazon.com Inc. (NASDAQ: AMZN), Microsoft Co. (NYSE: MSFT), Oracle (NASDAQ: ORCL) and International Business Machines Co. (NYSE: IBM). It is one of the largest data center REITs in the world, along with competitor Equinox Inc. (NASDAQ: EQIX). The company should continue to ride the cloud computing migration and artificial intelligence (AI) secular tailwinds.
Secular Tailwinds
Two major secular tailwinds should continue to drive the need for data centers. First, migration to the cloud is a significant part of digital transformation that's essential for companies. It's a key driver for Amazon's AWS and Microsoft's Azure platforms. More cloud computing requires more servers and colocation services, which datacenters supply.
Secondly, the global AI wave sparked by ChatGPT is just getting started. Every day more people are using AI and finding more applications. Digital Realty CEO Andy Power commented that the Microsoft Open.AI ChatGPT versus Google Bard AI war could "… spawn a wave of adoption and a proliferation of use cases and ultimately drive demand for compute infrastructure at scale."
The company has an average renewal rent increase of 2%. It signed over $500 million in new leases in 2022 and renewed $700 million. However, occupancy remains around 85%.
Value Creation
Digital Realty stock has fallen (38%) in the past twelve months compared to peer Equinox stock, down (6.3%). This is great for new investors seeking dividend income and growth. Buying shares this low increases the potential and magnitude of the upside on the bounce. The REIT pays up to 90% of its net income in a quarterly dividend, currently around 5%. The primary concern is the rising cost of financing its debt with rising interest rates. This pressure eases as the Fed rate hikes get closer to completion. While the macroeconomic landscape seems weak, the two secular tailwinds are still driving growth.
Q4 2022 Earnings Report
On Feb. 16, 2023, Digital Realty released its fiscal fourth-quarter 2022 results for December 2022. Revenues rose 11% YoY to $1.23 billion versus $1.21 billion. The REIT reported a core fund from operations (FFO) of $1.65 per share vs. $1.62 consensus analyst estimates, a ($0.03) miss. The company issued mixed full-year 2023 guidance with a core FFO of $6.65 to $6.75 versus $6.85 analyst estimates. Full-year 2023 revenues are expected between $5.70 to $5.80 versus $5.10 consensus analyst estimates.
BMO Capital Downgrade
On Mar. 27, 2023, BMO Capital downgraded shares of Digital Realty to Market Perform, dropping its price target to $100 from $121. Analyst Ari Klein noted debt financing expenses and macroeconomic weakness. Several of its top 20 clients are on shaky financial ground, like Cyxtera, which makes up for 1.7% of its annualized rent as the 12th largest customer as Moody's elevated its risk of default. Klein commented, "DLR's leverage is an overhang and with a $3.9B development pipeline, lowering it should be an uphill climb."
Weekly Descending Triangle
The weekly candlestick chart on DLR shows a descending triangle that commenced after peaking at $169.27 in December 2021. Shares continued to decline more than 50%, hitting a low of $83.84 by October 2022. DLR bounced through its weekly market structure low (MSL) buy trigger at $96.17 to peak at $121.02 in January 2023. Shares triggered a market structure high (MSL) sell trigger on the breakdown below $107.95 as the weekly stochastic went down through the 20-band.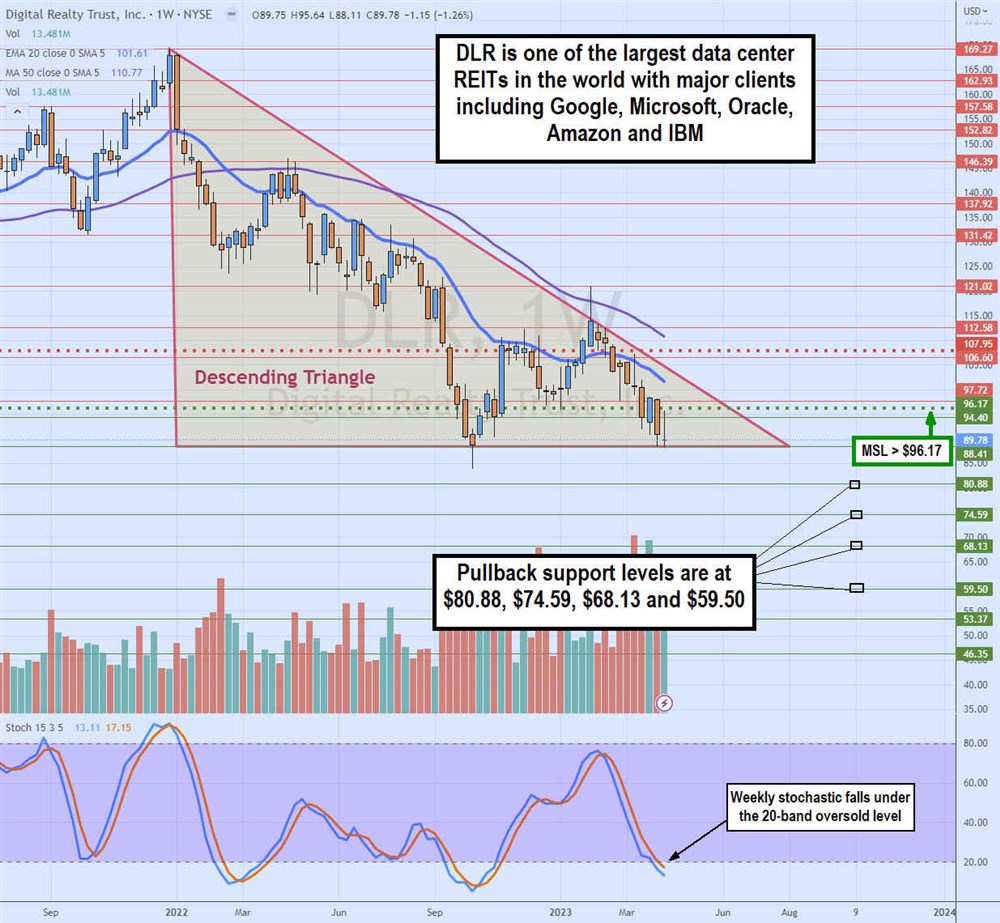 The weekly 20-period exponential moving average (EMA) resistance falls at $101.61, followed by the weekly 50-period MA resistance at $110.77. DLR is retesting the flat bottom trendline at $88.41, which could trigger a breakdown below it towards a new swing low. Pullback support levels are $80.88, $74.59, $68.13 and $59.50.