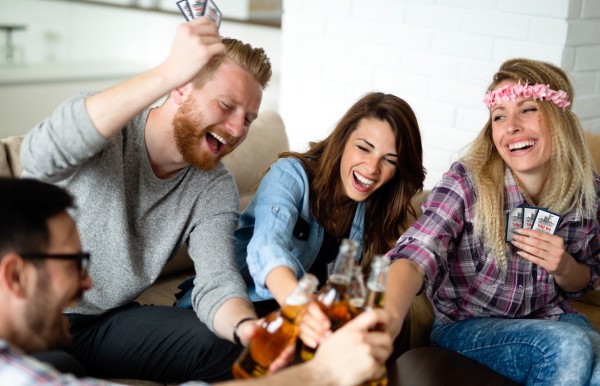 Nov 9, 2022 - Naples, FL - Tipsy Gov, LLC, is a fast-paced, fun political card game.
Creator and Founder, Samantha Leigh Ford and acclaimed conservative influencers, Rogan O'Handley (@DC_Draino), Grant Godwin (@The_Typical_Liberal), Isabel Brown (@IsabelBrown) and Ivory Hecker (@Real.Ivory) announced today a collaborative new project called TIPSY GOV — a fast-paced card game with collectible artwork of current political players and events launching via Kickstarter on Midterm Election Day, 11/08/22. 
Regarding the reasoning behind this launch, Ford said: "There is no escaping political talk these days – we are inundated with talking heads and sound bites.  The political tone has become harsh and negative.  I felt that politics could have a more lighthearted slant with a fun and competitive card game, allowing humorous discussion and laughs as the cards are pulled and played.  Tipsy Gov imitates real life politics, with "rules for thee, but not for me!" The last person standing wins!"  
According to Ford, the core features of the card game are:
Timely – in a highly charged political climate, Tipsy Gov uses satirical humor to lighten the political mood.  This is the first political card game of its kind on the market.
Quality – each card is a hand-drawn illustration of the political characters and events of the moment.  Just as the political landscape changes, future deck releases will reflect those changes by adding and deleting pivotal characters and events.  There will be never-ending material for Tipsy Gov!
Availability - The game, which will be printed in 4 or 8 player versions or 4 or 8 player in deluxe-format packaging, is available exclusively through Kickstarter from November 8 - December 8, 2022.

About Tipsy Gov, LLC:
Tipsy Gov, LLC is a fast-paced card game with collectible artwork of current political players and events based out of Naples, Florida. 
LINKS: 
PROJECT: (this is currently the pre-launch page, but will direct to the live page after launch on 11/08/2022)
https://www.kickstarter.com/projects/tipsygov/tipsy-gov
PRESS KIT: https://bit.ly/3SW6Wg8 
WEBSITE: www.tipsygov.com 
Media Contact
Company Name: Tipsy Gov
Contact Person: Samantha Leigh Ford
Email: Send Email
Country: United States
Website: https://www.tipsygov.com/