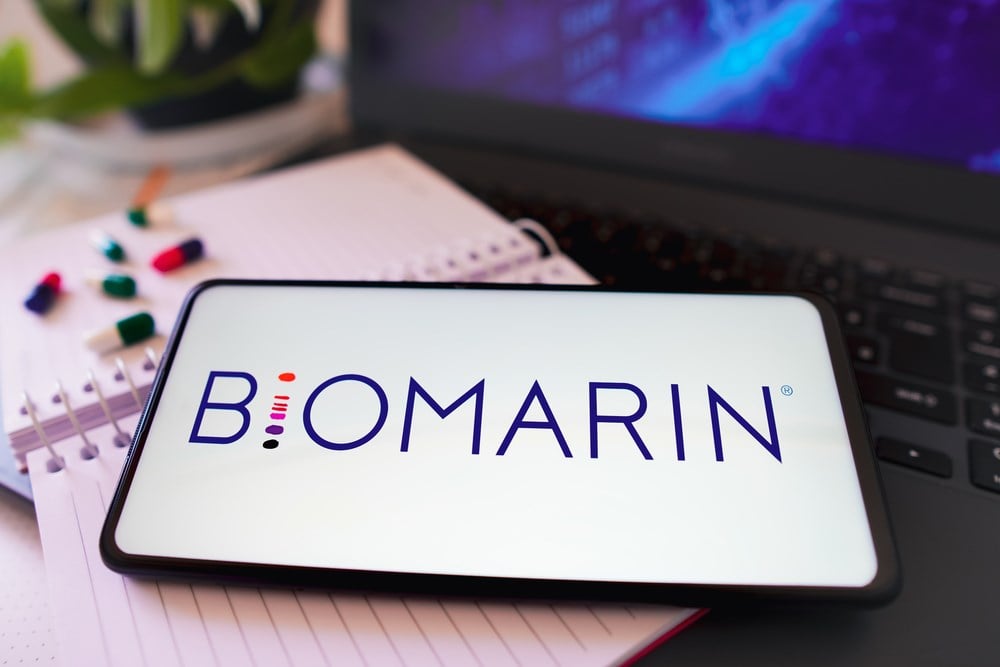 BioMarin (NASDAQ: BMRN) shares have been under pressure due to delays in approving its hemophilia A drug Roctavian. That is over. The drug, which targets hemophilia A in a 1-time treatment, was shown to reduce bleeding by more than 50% in its phase 3 trials, has now been approved for treatments in adults. This is a critical development for the company because it had recently lowered its guidance for Roctavian revenue this year because of the issues. 
The hemophilia market is worth about $14 billion in 2023 and is expected to double by 2030, so there is a significant opportunity. Not only is the industry expected to grow at a 7.5% CAGR but BioMarin could gain share because Roctavian is the only US-approved gene therapy. Some analysts see peak drug sales topping $1.5 billion annually, which puts the treatment firmly in blockbuster territory; the hurdle now is that it comes with a million-dollar price tag.
BMO analyst Kostas Biliouris upgraded the stock to Outperform from Market Perform because of the news. In his opinion, with the stock down 25% from when coverage was initiated, it does not reflect the opportunity for the company. He lowered his revenue targets for this year and set a price target of $102. That's about 20% of upside relative to the recent price action but well below the consensus figure. The analysts' consensus sentiment is firming; the rating has increased to Moderate Buy from Hold over the past year with a target near $118. That's about 35% above the recent action and maybe a low target, given the approval of Roctavian for US markets. 
BioMarin to Post Solid Growth In Q2; Analysts May Want More  
BioMarin is performing well and is expected to post a solid quarter in Q2. The company's core business is driving success without Roctavian, which amplifies outlook and expectations. The company is expected to grow revenue by 13% YOY, but there is a problem because the analyst may want more. The company guidance for revenue is only in-line with the consensus, while the adjusted earnings fall short by $0.07 and decline sequentially and compared to last year. In this scenario, the company could produce strength relative to the guidance, still not invigorate the bulls or spark a rally. 
Valuation is also a concern. The stock trades at 40X its earnings outlook, which is questionable. The company is expected to produce earnings growth over the next year but may not achieve the 75% YOY growth analysts expect, and there is also an institutional headwind. The institutions have been selling on balance for over a year, and it has been intense at times. Selling in 2023 has subsided from the peak set in 2022 but remains firmly biased toward the bears. This may change now that Roctavian is approved, but we won't know until later in the quarter. Until then, there is a risk that institutional selling will continue to cap gains. 
BioMarin: A Takeover Target 
There is takeover speculation centered on BioMarin because of a looming patent cliff faced by the largest pharmaceutical companies. BioMarin has a proven portfolio of treatments, with at least 2 on track for blockbuster status. The company also has a robust pipeline with 2 compounds in phase 1 trials and more than a dozen on track to begin trials. 
The technical picture is iffy. The market shows support at a critical level, but a rebound is yet to form. The critical level is near $86 and has been support and resistance for the market many times. Assuming the market can sustain this level, it should increase as the summer progresses. A more substantial rebound may begin if the Q2 results are decent or include positive updates or guidance. If not, BioMarin stock may fall back to the 2022 lows.