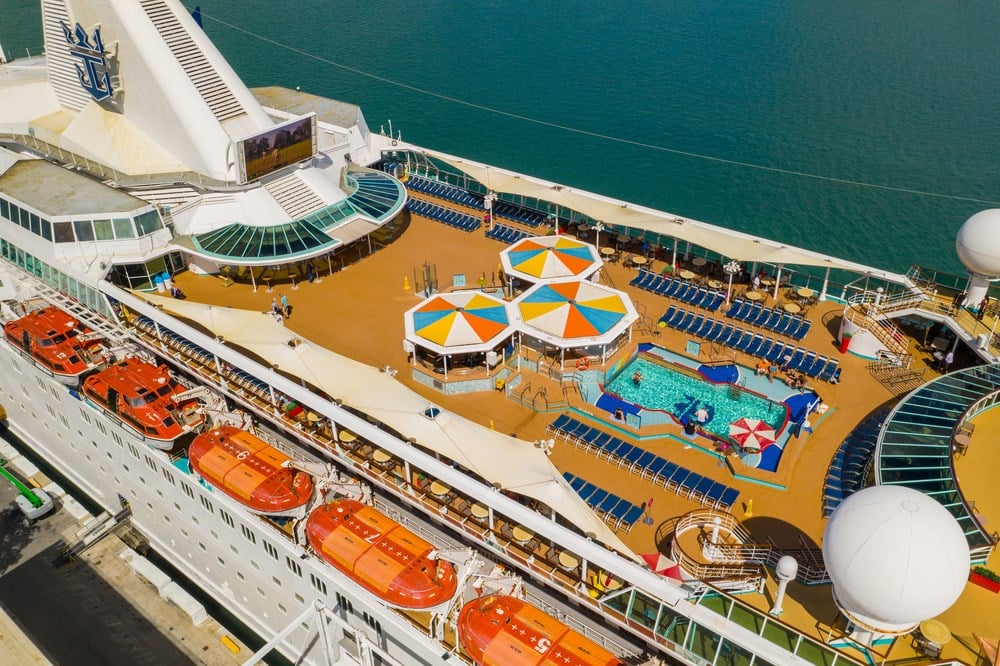 Royal Caribbean Cruises Ltd. (NYSE: RCL) shares are up 108.72% this year, as the industry is rebounding from devastating losses directly connected to pandemic-era restrictions. 
But the company isn't just floating aimlessly. Royal Caribbean is preparing to set sail with Isle of the Seas, the world's largest cruise ship. 
Royal Caribbean is currently the fourth-best performer within the S&P 500, with its rally getting underway in early May, after the company's better-than-expected first-quarter earnings report. You can see those income and revenue beats using MarketBeat's Royal Caribbean Cruises earnings data. 
In this case, the old saying "a rising tide lifts all boats" is apt; the cruise ship industry as a whole has rebounded to be one of the strongest in the past three months. 
Carnival Corp. & plc (NYSE: CCL) has also rallied to become one of the top performers in the S&P 500, with a 2023 return of 114.27%.
Analysts Expect A Return To Profitability
These companies, along with smaller industry peer Norwegian Cruise Line Holdings Ltd. (NYSE: NCLH) have yet to return to profitability after three years of losses. However, analysts expect that pivot to happen this year for Royal Caribbean and Norwegian, and next year for Carnival.  
The tide is certainly turning for the cruise industry. For example, while consumers shifted spending to goods during the pandemic, that trend is reversing, and looks likely to continue, which benefits cruise lines, hotels, airlines and other travel and leisure services. 
In addition, cruises, while they come with a hefty price tag, are still less expensive than a week at a beach resort, according to travel-industry analysts. 
New Cruisers Getting On Board
Cruise lines are benefiting as new customers are getting on board, which is a change from previous trends. 
The cruise companies have been delivering on bookings paid for prior to the pandemic shutdowns, so that's hampered revenue somewhat, but those obligations are waning. Current pricing for Royal Caribbean is above 2019 levels. 
On the cost side, fuel prices have been coming down, which helps the bottom line. 
All of that sets the stage for Royal Caribbean's upcoming launch of Isle of the Seas, which is being built in Finland. Not only will it be the largest cruise ship, but Royal Caribbean is touting it as its most sustainable ship to date. The ship has been designed with features to most efficiently use water and energy, dispose of waste, and source materials.
Isle Of The Seas Sailing From Miami
Isle of the Seas is set to launch in January, but the company says it will be finished before then. Royal Caribbean says the ship will sail year-round from Miami.
Royal Caribbean's analyst ratings show a consensus view of "moderate buy."  Since the company's most recent earnings report, in late July, four analysts boosted their price targets. However, by looking at the analyst ratings, you can see that the trend of increasing the price target has been in place for much of this year, as the company and its industry claw their way back to profitability. 
The stock has a three-month gain of  34.06%, but has pulled back slightly in recent weeks, finding support along its 21-day moving average. 
A look at the Royal Caribbean chart shows the stock's rally actually began in July of 2022, giving the stock a one-year return of 171.71%.
Topping Wall Street Views
Wall Street expects the company to earn $6.08 per share this year, its first year since 2019 with a profit. Royal Caribbean earnings data show the company earning $1.82 a share in the second quarter, up from a loss a year earlier. That number topped analysts' views of $1.58 per share.
Revenue of $3.52 billion also came in ahead of expectations. 
At this juncture, with that robust three-month gain, it may be prudent to wait for a pullback with support at the 50-day moving average before climbing on deck. Given forecasts for rosy travel and leisure spending in the next couple of years, combined with the company's optimism, as evidenced by the Isle of the Seas launch, Royal Caribbean's prospects appear ship-shape.