With Record Prices Ahead, Should You Be Panning for Gold ETFs?
December 21, 2020 at 09:06 AM EST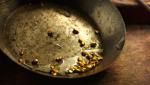 Gold exchange traded funds such as the SPDR Gold Shares (NYSEArca: GLD) and the SPDR Gold MiniShares (NYSEArca: GLDM) enjoyed some solid performances this year and more of the same could be in store for gold bullion in 2021. Even after this year's rally, the spot gold price is still below...